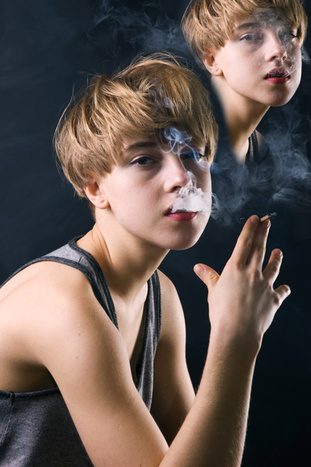 Will Rockel, You think you are an orange and begin to peel yourself, 2013;
©Will Rockel/Courtesy Hunter Braithwaite

Friday night's gallery opening at Michael Jon Gallery sparked seedy flashbacks of my trips to New York's Lower East Side, where my friends and I would hit gallery after gallery in search of the next great artist. Unlike its more grown-up sister, Chelsea, where established artists are backed by gallery owners with deep pockets and large spaces, the Lower East Side offered us chance meetings with gifted unknowns while we all rubbed elbows---often literally. (These spaces could be pretty tiny.)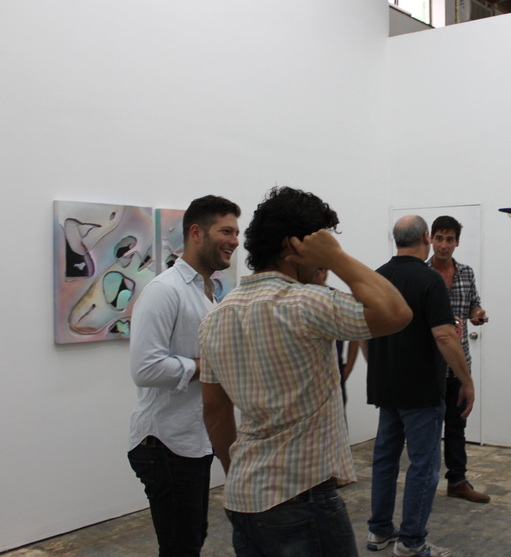 Pictured with works by Cole Sayer, gallery owner Michael Jon Radziewicz (far left) and curator Hunter Braithwaite (far right) converse with patrons; Photo by Seanica Howe.

Enter Michael Jon Radziewicz, owner of Michael Jon Gallery; curator Hunter Braithwaite; and one very intimate space in Miami's newest art destination: downtown. Michael Jon begins its stint in its new location (it was briefly in the Design District) with an exhibition called "Gattaca," and it's going to throw you for a loop. Why? Due to the limited number of examples by each artist and lack of grounded text, it's difficult to relate the works to one another and there is little to go on in the mode of esthetics. But not so fast, people. It's also a collection of work by little-known artists who have massive potential. Art consultant pro tip: If you have dreams of starting your own art collection, "Gattaca" is a great place to start.

"Gattaca" is made up of artists that newly minted collectors dream of. They are young, virtually unknown, and have bios that give their work considerable weight. The show is composed of four artists: Ethan Greenbaum, Hayal Pozanti, Will Rockel, and Cole Sayer. Two of the four, Greenbaum and Pozanti, received MFA degrees from Yale---that's serious. And Rockel boasts recent participation in a group exhibition at the New Museum in New York City. Due to his current involvement with the Venice Biennale, any mention of the New Museum's director, Massimiliano Gioni, makes fine art lovers everywhere weep and salivate, so Rockel gains street cred by mere association.

You would never know it by seeing one or two pieces extracted from their larger body of works, but if you do your homework you'll quickly realize that each of these emerging artists are part of important conversations in the forward progression of art, as well as its relationship to theory, process, and materials. In elitist art world brouhaha that means: "We think your art is valuable." Get the picture? Good.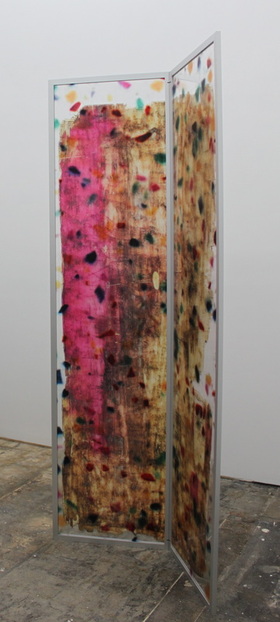 Ethan Greenbaum, Weep Space, 2013; Photo by Seanica Howe.
Since you're likely to leave this exhibition scratching your head, let me explain just what these artists are up to. Greenbaum, the show's standout, uses, as his subject, building materials, principle units of architecture that we generally disregard when visually consuming our physically constructed environments. In Weep Space (2013), he layers photographic images of wood and formica to create a stand alone sculpture of printed acrylic panels.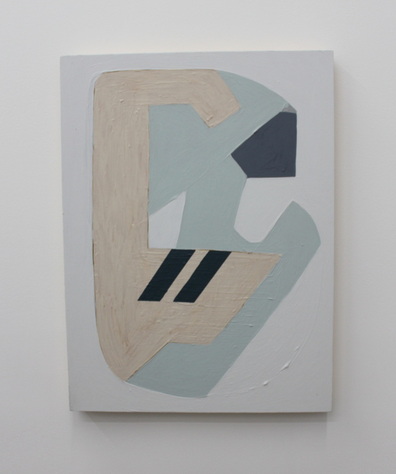 Hayal Pozanti, This Week Last Year, 2013; Photo by Seanica Howe.

Pozanti, who initially worked in graphic design, abandoned her roots and got back to basics through painting. The medium allows her a more personal connection with her abstractions, those born from indefinable shapes she originally created via computerized collage.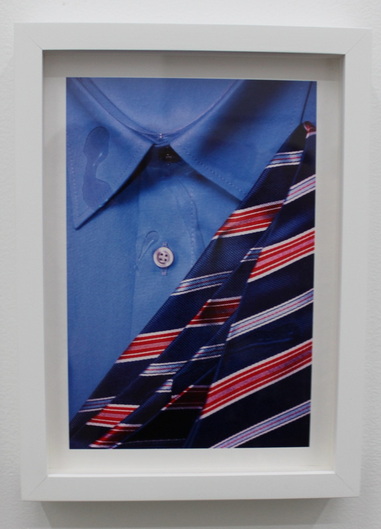 Will Rockel, Cold Opening, 2013; Photo by Seanica Howe.

Through digital photography, Rockel toys with fetishism and irony while exploring sexuality and culture and how our minds react to such through images. In
Cold Opening
(2013), Rockel accentuates a man's shirt and tie with clear fluid to create a sterile image, one that also conjures up stories of political sexcapades.
And Cole Sayer probes the variable exchange of the insubstantial with that of physicality. He injects his work with strange, new, and unexpected materials in the same way that sports figures up the ante with steroids and public relations.
Gallerists and curators like Michael Jon Radziewicz and Hunter Braithwaite are essential for the continued artistic evolution of Miami and its leverage in the art world. These young guys, relatively new to the art scene, have focused their energy on up-and-coming artists from outside the city limits; dialing us in, both nationally and internationally, to academic circles, critics, and hot new artists and shows that mediate the dialogue of emerging trends in the arts, ones that collectively reflect zeitgeists and result in movements. Sound important? It is. This later translates into significant museum exhibitions and recognition on the secondary art market.
So what say ye? Bring it on Michael Jon.
This article was originally written for publication with The Miami New Times Blog, Cultist. This writing, as well as others by the author, can be accessed here:http://blogs.miaminewtimes.com/cultist/2013/07/why_michael_jon_gallery_and_th.php#more