Seanica Howe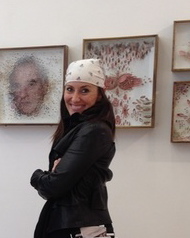 Seanica Howe is a writer, artist, fine art consultant, artist liaison, orthodontist, lover of all things beauty, and, well, an anomaly. After practicing orthodontics in Miami for nearly ten years, as well as starting her own practice in the small community in which she was raised in Missouri, she did the unthinkable---she left. After studying art in her free time and countless hours of spiritual study, she moved to New York City in search of her passion, art. Instead of art, she got a whole lot more: a journey into the self, an answer to what was missing, and a renewed love for her work.

Seanica now has a Master of Arts in The History of Art and the Art Market: Modern and Contemporary Art from Christie's Education in New York. During the fall of 2012 she was affiliated with Christie's auction house in New York City during their record breaking post-war and contemporary art sales in which she assisted in cataloging, researching, and a variety of other tasks integral to auction's success.

Seanica is a student of the Dharmi practice, meditation, metaphysics, and life. In her master's thesis topic, "Transcendence in Yoko Ono's Cut Piece," she explored the spiritual evolution of visual artist Yoko Ono through her performances of Cut Piece in the 1960s. Seanica continues to promote the elevation of the human spirit through the visual arts and utilizes her writing and history as a practicing orthodontist, artist, successful entrepreneur, and spiritual addict to inspire others to follow their dreams, reach for creativity, and incorporate art into their daily lives. She, her studio practice, and fine art consulting business are currently based in Miami where she has resided since 2003.


---