I Santissimi, Horror Vacui, 2012; Photo by Seanica Howe


To say that Art Basel has become significant for our fair city is a bit of an understatement. Do we even remember what Miami was like before this major event elevated it from vacation destination to cultural hot spot? Those of us that had never been exposed to million dollar art suddenly became connoisseurs and were granted permission to enter a world we thought only existed in New York and Paris.

Well, the big daddy fair, father to which Miami now owes its claim to art fame, has, once again, occupied Switzerland. No people, Art Basel is not just a Miami event and, just in case you are wondering, its fabulousness translates worldwide.

My first day in Basel had me starting with one of my favorite satellite fairs, SCOPE. Sonja Hofstetter, head of SCOPE exhibitor relations, shared with me her thoughts on the major contrast between Art Basel in Basel versus Miami: that while Miami continues to live up to its reputation as a place to see and be seen, which comes as no surprise, Basel attracts the serious European collector, with many of the attendees flying in specifically to buy art.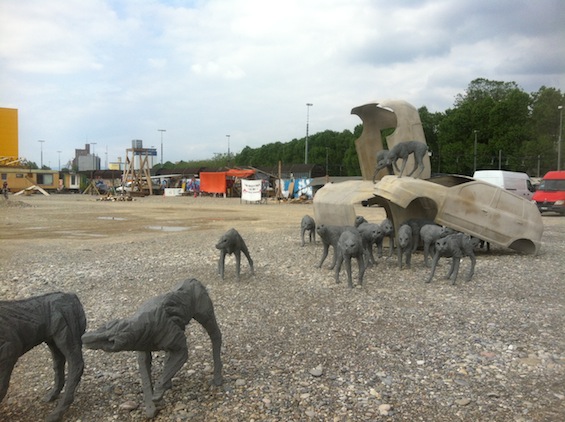 Paolo Grassino, Analgesia (2012), an outdoor installation courtesy of Mario Mauroner Contemporary Art; Photo by Seanica Howe.


Standing guard as visitors enter the fair is a group of junk yard dogs, an outdoor installation by Paola Grassino, reminding riffraff to keep out so that sophisticated types inside can get down to business.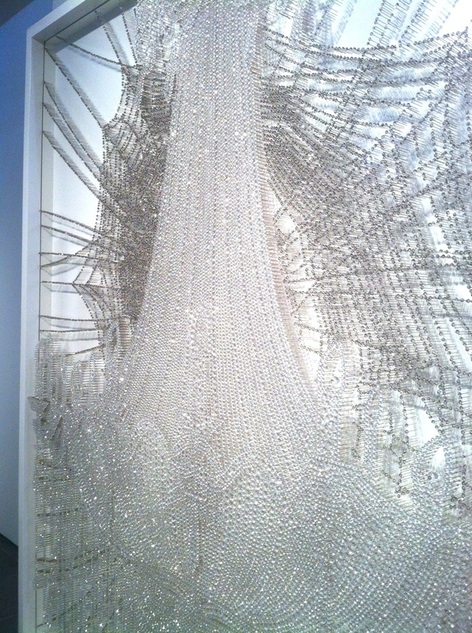 Ran Hwang, Secret Obsessions, 2013; © Ran Hwang/Courtesy Inception Gallery, Paris.


Seeing SCOPE Miami attendees Victori Contemporary and Aureus was a major treat, along with viewing contemporary art that ranges from I Santissimi's perplexing fabrication of a sectioned, crouching human, shown by Gagliardi Art System, to Ran Hwang's webbed chandelier of thousands of crystals and beads pinned to plexiglass. Hwang is represented by Inception Gallery in Paris.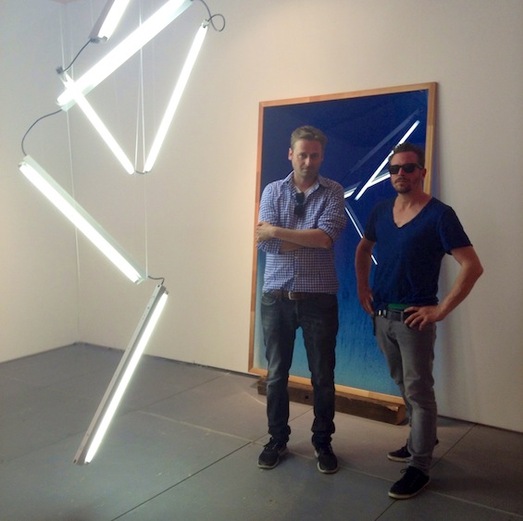 Comenius Rothlisberger and Admir Jahic, The Invisible Heroes, standing with one of several works shown for the SCOPE art fair; Photo by Seanica Howe.



Comenius Rothlisberger and Admir Jahic, the artists better known as The Invisible Heroes, have works on display specifically for SCOPE. In their stand alone space, this cool duo presents resin sculptural objects embedded with colored pigments, allowing reflections from fluorescent lighting to skate along their surfaces.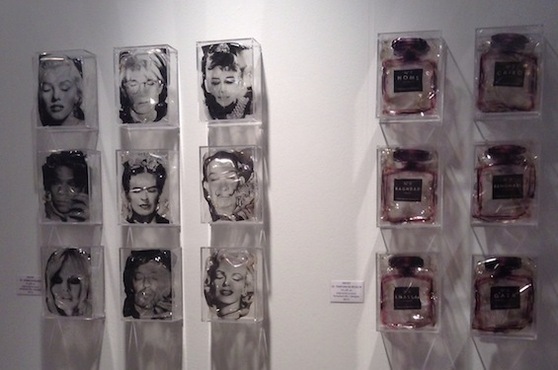 Yves Hayat, Icones Fatiguees (left) and Parfums de Revolte (right), both from 2013; Photo by Seanica Howe.

However, the fair's definite crowd pleaser was a series of small clear cases with a big message. Created by Yves Hayat, these shriveling images of coveted icons and designer brands ask their admirers to consider the price paid for celebrity, consumerism, and wealth. Not to worry, in addition to showing in Paris, Hayat's dealer, Mark Hachem, also occupies a space in New York's Chelsea. But if you've taken a vow only to see art in Miami, preferring a little more pizazz with your viewing pleasure, I'm sure he could be convinced to fly south for the winter...just in time for our spiced up version of this beloved event.
This article was originally written for publication with The Miami New Times Blog, Cultist, as one of a series of articles titled "Art Basel in Basel" by Seanica Howe. This writing, as well as the remainder of the series, can be accessed at
http://blogs.miaminewtimes.com/cultist/2013/06/art_basel_in_basel_day_one.php?page=2.