As many are aware, I do my fair share of traveling: a few jaunts to Europe every year, flights to and from New York City are too numerous to count, and Chicago and Los Angeles are favorites too. So I suppose I feel myself a bit of an authority on places to visit. If you have never been to The Standard in Miami then you're missing out. It is by far one of my favorite places on earth. One of the secrets this delectable hotel and spa isn't letting you in on is that a major reason it exudes breezy cool isn't the wind coming in from Biscayne Bay. It's from the people who work there. While its guests are bathing in the sun and overindulging in signature drinks, artists of all kinds are circling. So you may want to look around, get a name, and grab a pen before taking the first sip of that mojito. I wouldn't want you to miss out on an autograph and bragging to your friends in the future about how you "knew him way back when." Enter Marcello Ibanez and Nick Hyland, Standard employees. One is a pool server, the other, a pool and wellness manager. You might want to sit down. When it comes to these two, there is much more than meets the eye.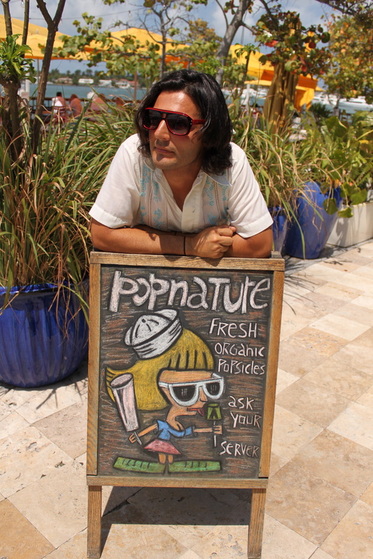 Marcello Ibanez overseeing one of his chalkboard drawings from 2013; Photo by Seanica Howe.


Marcello Ibanez is a genuine character. He is a bit of an icon at The Standard, and I consider myself one of his biggest fans. He has that "je ne sais quoi" of a star. Always sporting bold sunglasses and creating an air of South American zest wherever he goes, Ibanez has a way of flipping his external environment on its head, twirling and swirling words and images as if he spent hours behind the desk of a leading ad agency. Except Ibanez doesn't have a team of creative people behind him. He's a one-man show. And he freely shares his art, as well as his infectious personality, with vacationers and hangers-on at The Standard. His chalkboard designs playfully announce the daily happenings of the hotel infusing humor and Miami flair. But before you assume this is another guy playing with chalk at a hip hotel, think again.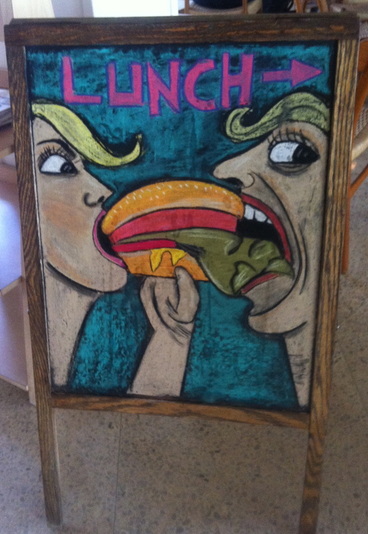 Marcello Ibanez. A recent chalkboard design and announcement for The Standard, Miami;
Photo by Seanica Howe.


Ibanez's childlike perspective highlights the ridiculous. His work organically vacillates between painterly illustration and the esthetic of Keith Haring. Cartoon-like characters drawn with bold lines and bright colors take on local personality and send subtle messages about animal rights and the superficial nuances, ones we all love to hate, of Miami. You might see a funky (literally) chicken frying up some eggs for breakfast, a sexy, leggy grape eyeing a jar of jelly in horror, or a puffy-lipped vixen balancing footballs on her chest in preparation for the Super Bowl. What's the greatest thing about Ibanez's art and his creations? It's all in good fun. Just as he prods and pokes at the silliness of humanity, his art embraces its beauty and differences, encouraging us to go with the flow and have a ball. Outside of The Standard his playful animal and doll photographs get widespread attention, and his art has been used for big name promotions like Evian water and Ford Motor Company. Not bad for a guy taking your lunch order.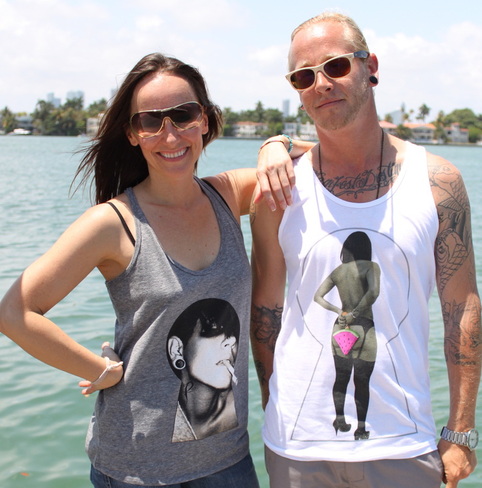 Seanica Howe and Nick Hyland in Page Two designs; Photo by Seanica Howe.


Do you know those people that just exude coolness? Johnny Depp immediately comes to mind. You know who I'm talking about…like if they walked around in a paper sack and talked about nothing but the sun, you would still be finding a way to hang with them. That is Nick Hyland. Blond ponytail, tattoos, ray-bans, and easily relatable, he captures your attention for hours and makes you feel at home. He is an Arizona guy, from the school of hard-knocks, and is a total inspiration. And lucky for us, he has found his way to Miami and is taking his eye for style to the streets with his clothing line apparel.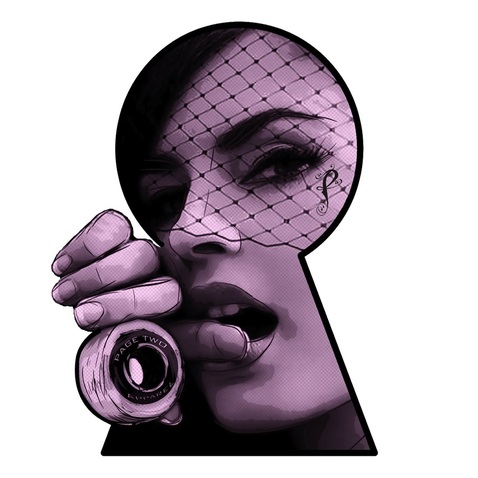 A design from the Page Two 2013 collection; © Nick Hyland/Courtesy Nick Hyland and
Page Two apparel, Miami.


Hyland's lifestyle brand, Page Two, infuses street art with his own personal images and is a reminder of how the most challenging moments in life can show us what we're made of, spurring us to great things, if we let them. The Page Two logo and its accompanying tagline, "on two the next one," aren't just catchy ways to encourage its wearers to move forward and grow. "Page two" is used in the criminal justice system as a recall for those on their way out and can result in additional time. It is proof that the cold and dark can ignite creativity and be the hunger behind the desire for beauty.
Hyland's brand is the fashion equivalent of the worlds he has inhabited, both past and present. And it is the perfect integration of pop culture, urban gritty, and provocative femininity. Faces and silhouettes of smoldering women sprinkled with a bit of Miami spice or delectable fruit mish-mash in and around Hyland's trademark keyholes, reminiscent of the early Playboy covers. I think if we could ask him, Eduardo Paolozzi, a major player in the formation of British Pop Art, would have been proud. Paolozzi's collaged blend of found images and magazine cut-outs may be in the Tate, but I wonder if he could have combined those with delicious fabrics that, in any size, flawlessly frame the body? I doubt it, and Hyland has mastered it.
One of the most beautiful things about life is that it is full of surprises. What you see isn't always what you get and often we are fooled by the external, taking it as the whole truth. What lies behind a door and below the surface can be the most deserving of our attention. I could just write about fine art, but what fun would that be? Art is everywhere. It's in our streets, galleries, and inside the people we meet. All we have to do is pause to see it. When we are brave enough to take a risk and even share ourselves, the world becomes a very different place. The guy at the pool is no longer the one bringing you a towel; he is now a man with a brand, contributing to the creative conscious, fashion, and design. The one behind him, waiting with your next drink, actually holds an inner child capable of transforming the way you see your environment, all with a simple piece of chalk. And, if you walk in and look closer, the little hotel away from the well-worn streets of Miami becomes an oasis…and a haven for those with a dream.
The Standard hotel and spa is located at 40 Island Avenue, Miami Beach, FL. For more images and bio information on Marcello Ibanez, go to www.marcelloibanez.com. The designs of Nick Hyland can be purchased at The Standard boutique on premises. For access to more of Hyland's designs visit www.pagetwoapparel.com.Bonus video footage of these artists speaking with the author can be accessed on YouTube via the following links: Ibanez on the evolution of his first Standard chalkboard http://youtu.be/QGhcaWuUcQM
Hyland discussing the Page Two logo and the use of his wife's image for some of his creations http://youtu.be/zQMZU5RB0Yo