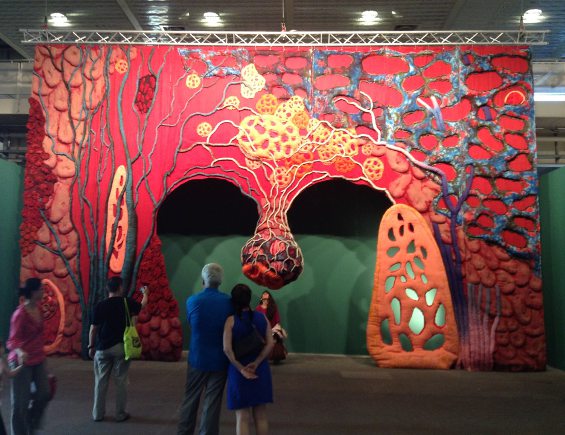 Viewers behold Piotr Uklanski's Untitled (Open Wide), 2012, installation at Art Basel's "Unlimited;" Photo by Seanica Howe.


Today was the day I ate my words. Gagosian, please forgive me. Hauser & Wirth, keep building. Every terrible thing I've ever said about oversized galleries with big bank accounts? I take it back. You are now my reason for being, my everything, because without your support of artists in need of large spaces and big budgets, I would have missed having my jaw drop open at "Unlimited," Art Basel's show within a show.

Stretching the imagination beyond the wall hanging and basic sculpture, "Unlimited" serves as the portion of the main Art Basel fair designated for multi-media, performance art, and large scale installations and objects that reach beyond the limits of the white cube.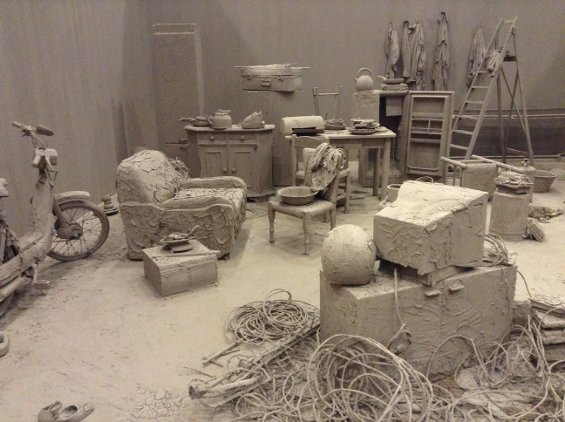 A portion of Chen Zhen's Purification Room, 2000; Photo by Seanica Howe.

Purification Room (2000), Chen Zhen's archeological work, warns of an apocalypse, and, given the world events of late, are sure to force one to question their place in the world and its potential destruction. Banal objects used in everyday life are left in the dust, literally. Covered in thick layers of earth, cookware, furniture, clothing, and even the bike on the lawn remain frozen in time, free from further wear with the disappearance of their users. Besides being psychologically terrifying, Zhen's clay process is masterful and leaves the viewer pondering the unlikelihood of its fabrication.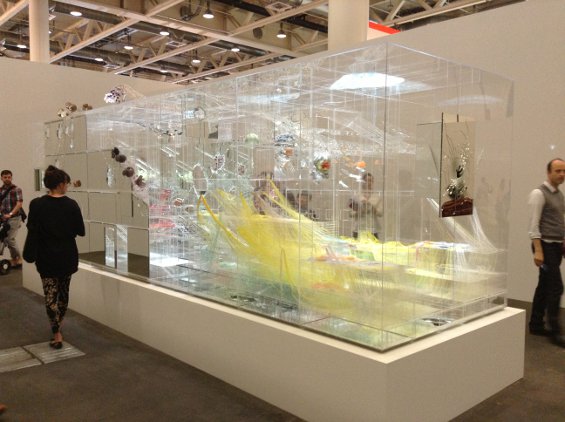 David Altmejd, The Orbit, 2012; Photo by Seanica Howe.


On a lighter note, in a room all to itself, is an object in stark contrast to the death and destruction conveyed by Zhen. Well, maybe not death, because inside this partially broken aquarium of clear cubes and mirrors created by David Altmejd is a melon-head exploding into several pieces. The Orbit (2012) contains a rainbow of string, waxed body parts, and artificial cherries, among other things. It all seeps into the subconscious like a dream of interactive energies that shift and transform in color and state of being, floating above any susceptibility of decay.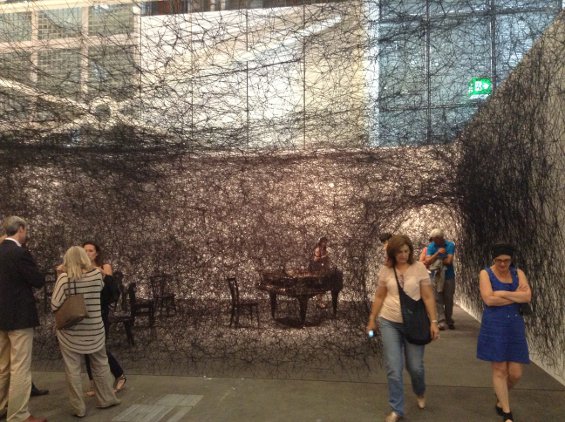 An exterior view of Chiharu Shiota's In Silence, 2002/2013; Photo by Seanica Howe.


Two female artists defy the odds with their treatment of textiles: Chiharu Shiota spins an installation that evokes memories of childhood trauma or domestic abuse by including burned chairs and a piano, both contents of a home, but one that traps and frightens its occupants. And Piotr Uklanski magnifies the softer side of the oral cavity in her quilted
Open Wide
(2012) installation, where a giant uvula diminishes its admiring audience. Ahhhhh "Unlimited!" She took the words right out of my mouth.
This article was originally written for publication with The Miami New Times Blog, Cultist, as one of a series of articles titled "Art Basel in Basel" by Seanica Howe. This writing, as well as the remainder of the series, can be accessed here: http://blogs.miaminewtimes.com/cultist/2013/06/art_basel_in_basel_day_two_ahh.php.