If there's anything I've learned from seeing art and writing about it, it is that visual pleasure is best shared with friends (and occasionally lovers). For a while now, I've lived and traveled between two cities, primarily New York and Miami, and, despite the exhaustion it sometimes brings, being a nomad definitely has its perks. The best one of all is the people I've met and relationships I've built along the way. Just like the places in which they reside, those I know and love in New York and Miami couldn't be more different. Each possesses unique flavor and perspective. New York is smart, sophisticated, and edgy. Miami is warm and breezy with a hint of exotic. But whatever your preference, there's never a dull moment in either; and this past weekend, in the city that never sleeps, was no exception.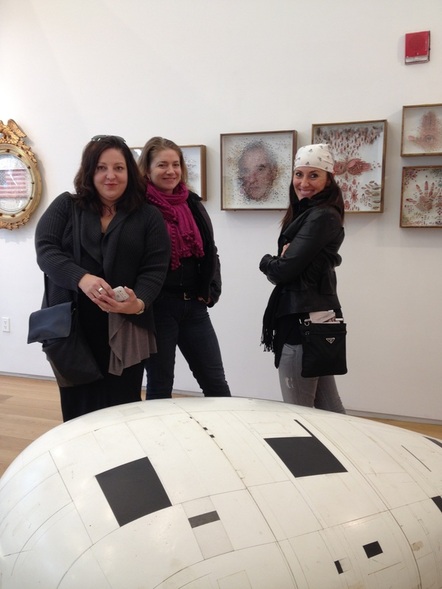 From Left to Right: Sandra Enns-Arnell, Claire Shegog, and Seanica Howe with artwork from Aureus Contemporary's "Victorious;" Photo by Seanica Howe.


The long weekend began with a trip to Chelsea with Cherise Gordon, entrepreneur and director of the newly forming Nu-Garde Gallery. Watch for Cherise to be one of the leading dealers in new media and emerging artists. She and I traveled to 520 W. 27th Street for the opening night of the pop-up exhibition, "Victorious," curated by Kevin Havelton and Klaus-Peter Saltzmann of Aureus Contemporary. While at "Victorious," you can pick your poison: wily and devilishly handsome gallery director or art that ranges from new perspectives in painting to detailed intricacies in mixed media. Aureus is full of secrets and surprises, so keep a third eye open at all times, you never know what you will hear or see and that's only half the fun. Claire Shegog, one of Aureus's stars and whose work is one of the show's many highlights, was in attendance and, lucky for me, I was allowed insight into the life, mind, and career of this wildly clever and down to earth artist. Claire is often seen at one of the gallery's many trips to a variety of art fairs, so if you happen to spot her don't pass on a chance to meet. You won't be disappointed.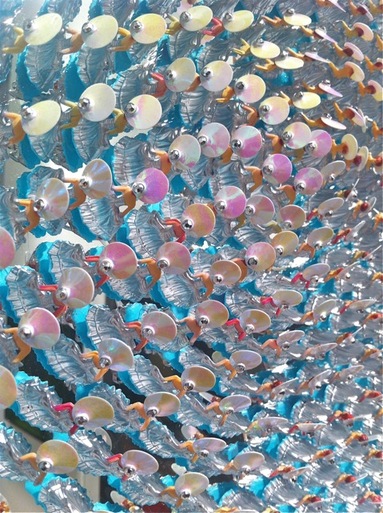 Claire Shegog, Detail of Busby's Chandelier, 2012, mixed media on mirror glass (framed), 16 X 16 in.; © Claire Shegog/Courtesy Aureus Contemporary, Providence.


Shegog is an artist with an intense curiosity for life and a fascinating background that has extended from a stint as a florist in Paris to house painting and design in the northeastern U.S. The combination of her love for beauty and all things girly with an obsession for materials and attention to detail has translated into art that embodies basic femininity. Whether it is the little ballerina you may have witnessed twirling in your jewelry box, the antique ceramics you coveted, or the unforgettable day you played dress-up with your best friend, this is art that is a cognizant reminder of the dreamy worlds that play in the minds of little girls, some boys, and women everywhere, where dolls, ball-gowns, and a desire for everything shiny border on mental insanity. Tiny female figures, each identical in form and created with the machine-like precision of Shegog's hand, are purposefully arranged to dance with the eye like dominos on a mirrored stage, where the slightest movement could topple the troupe. Much like the woman who sits knitting for hours or the dressmaker who sews and ripples, Shegog uses methodical repetition to explore patterns and rhythmic arrangements that are dazzling, much like their creator.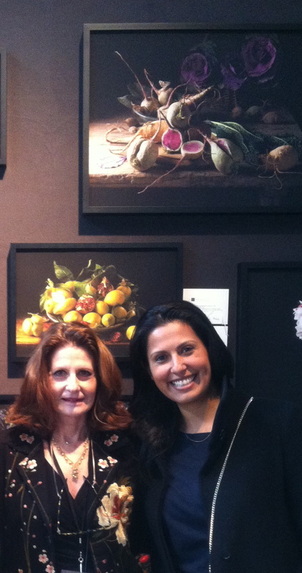 From Left to Right: Paulette Tavormina and Clara Rodriguez with artwork by Tavormina; Photo by Seanica Howe.


Friday began with one of three trips to the AIPAD Photography Show at the Park Avenue Armory, the last of which I attended with Clara Rodriguez, former executive director of Art for Change, where we chatted it up with Amanda Langer, photography connoisseur and gallery assistant to Robert Mann. The AIPAD would make a picture lover out of anyone, but it was Paulette Tavormina who stole the show.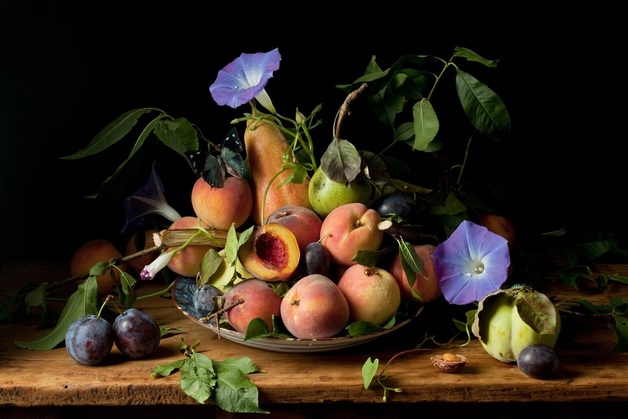 Paulette Tavormina. Peaches and Morning Glories, after G.G., 2010; Courtesy of the artist and Robert Klein Gallery, Boston.


Tavormina is beautiful and elegant and her photographs are the same. At AIPAD, her creations were shown by Boston based Robert Klein Gallery. At first glance, it is difficult to tell if her photographs are created with a camera or a brush because the idea of anything looking this perfectly staged, colored, and lit without being retouched is hard to fathom. Her images are reminiscent of 17th century Old Master still life paintings, but are anything but static. They take on a life of their own, capturing the exact moment when the new becomes old or the rare point in time when all is in balance: sweet with sour, life with death, full with empty. Tavormina carefully crafts each composition by scouring markets, streets, and beaches for the exact item to fill her camera's lens. They are vibrant and exquisite. Straight photography doesn't get any better than this.




Cartwheels in David Zwirner featuring works by Thomas Ruff; © Thomas Ruff/Photo by Seanica Howe.


Saturday was a fast-paced blur that started with gymnastics in the colossal David Zwirner where giant size photographs, some of which require 3D glasses, by Thomas Ruff are currently on display. My friend Kirsten Nichols and I decided that the giant space Zwirner built should in no way be limited to merely showcasing works of art. Who said art lovers are elitist and no fun? We decided that Zwirner's massive cube is surely designed for cartwheels and good times, so Kirsten took to the concrete to demonstrate her skills. We're not sure if the people at Zwirner agree that the art mogul's monstrosity should be treated as a playground, but I'm sure anyone can appreciate a pic so I've included one here. Our personal tour through Chelsea included the following highlights that warrant a taxi ride and being snubbed by the gallerists manning the desks: Gladstone Gallery's Miroslaw Balka's The Order of Things, an installation of steel vats, streaming colored water, and all-around Zen goodness; Mike Weiss Gallery's "Another Shit Show," Will Kurtz's paper mache puppy party complete with (you guessed it) shit; and Sonnebend Gallery's current solo show of Rona Pondick's metallic sculptures that morph from anemic tree to creepy human head.


Vittorio Calabrese of Bosi Contemporary pictured with works by Chuck Kelton from his series Night after Night; © Chuck Kelton/Photo by Seanica Howe.


Next stop was 48 Orchard Street in LES to see Vittorio Calabrese at Bosi Contemporary where "New Photogenic Drawings" by Chuck Kelton and Eric William Carroll are being shown until April 21st. The exhibition is curated by Allison Bradley and creates an engaging dialogue between very different and unlikely forms of photography, diazotype and photogram. Vittorio, too, is an art form all his own, so a visit to his gallery will certainly insure an enlightening conversation with one of the most lovely and interesting Italians you will ever meet. But be forewarned, after hearing Vittorio poetically speak about the art and artists at Bosi, you likely won't leave empty handed so invite your art handler to accompany you.

My weekend ended with a Mexican dinner and mango margaritas with Paddle8 auction manager, Gabriel Butu. Ladies, Gabriel is smart, gorgeous, AND British. I would post a photo here but I don't have time to manage the requests for his phone number. This was followed by a morning jaunt to Brooklyn after a last minute invite to the studio of the hugely talented Miriam Cabessa. I may have been having an out of body experience at Cabessa's…hopefully she didn't notice. While being in the presence of greatness, it's difficult to keep one's feet on the ground.

It's a rough life hanging with beautiful and talented people and seeing art in the greatest city in the world, but, hey, somebody's gotta do it. I'm just grateful that some of the most spectacular creatures on this planet indulge me and share their air. Oh, and also that I'm permitted to return to Miami to digest the weekend's happenings in the warm sun while drowning in Cuban coffee. Ciao New York…until we meet again.